Newport, RI - Nantucket, MA
(18 June 2005)

Map generated by the Great Circle Mapper - copyright © Karl L. Swartz.
While completing some temporary duty in Newport, RI (my trip to/from there is detailed here), my wife and I took a day trip to Nantucket. Since she was along we got some great shots as I manuevered over Newport and Nantucket. We got a late start and departed Newport State (KUUU) mid-morning...no biggie when the flight to Nantucket is only about 20 minutes by Mooney (sure beats that ferry from Cape Cod that takes over two hours!). Newport State is located just North of downtown Newport and we got some great views on departure.
Here is the Newport Naval Base. You can see Goat Island (where the Naval War College is located) and the Newport Bridge in the background.
Below are two shots of the cliffwalk and some of the Newport mansions. You get a true appreciateion for how big these are from the air!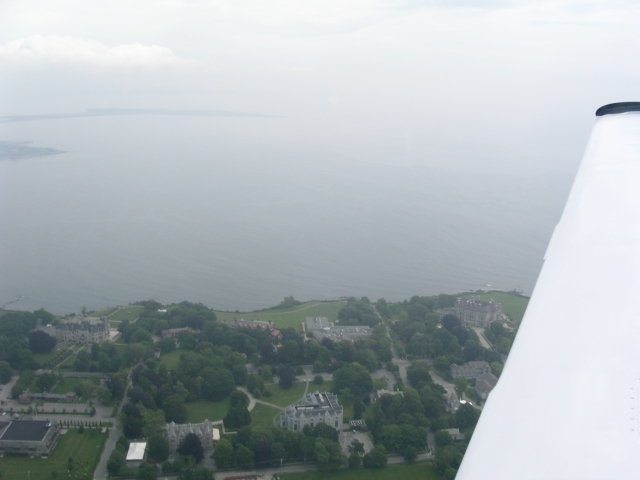 Our vectors into Nantucket airport took us right over the harbor. In the picture at right you can make out the ferry (arriving after a two hour and fifteen minute trip from Hyannis!) at the large pier. Mooneys are definitely the way to travel!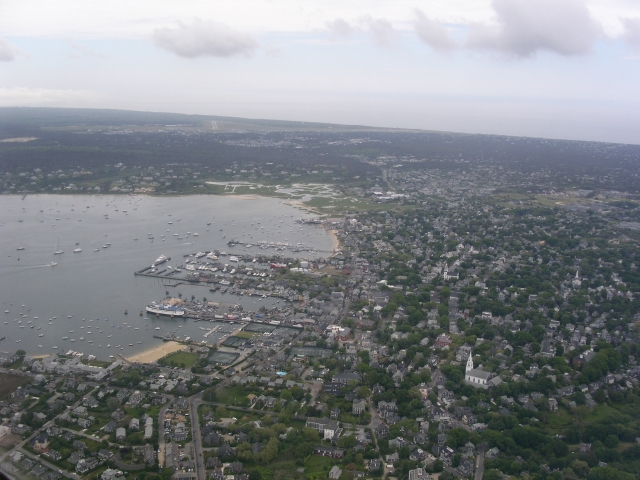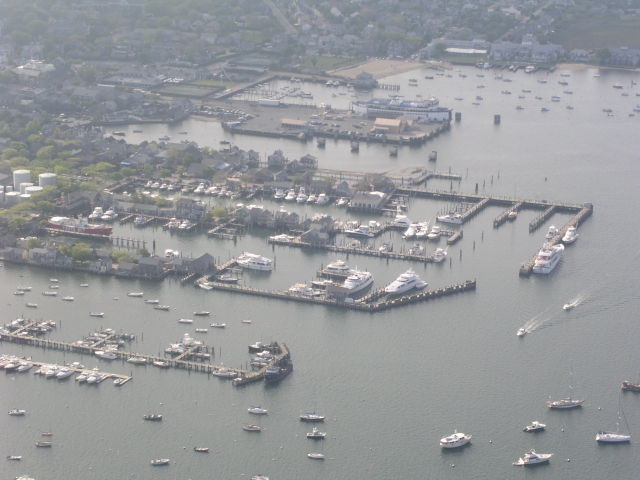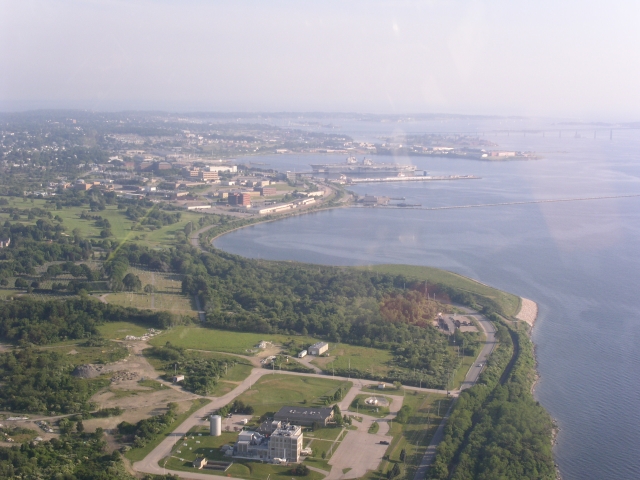 A fter a great day of sightseeing in Nantucket ($10 cab ride into town, no landing fee since we were only there a few hours) we flew back to Newport. As we approached the airport my wife got this neat shot of the island with the Naval Station (and Goat Island) in the background and two of the mothballed Navy aircraft carriers near the middle of the picture.
All in all the trip was another great demonstration of the utility of a general aviation plane. Had we been in Newport without a plane it would have meant a very early morning departure to drive to Cape Cod, catch the ferry and arrive about the same time we did, depart on a mid-afternoon ferry to get back to the cape around 6:00 pm and then a long drive not getting us back to Newport until well after dinner time. The ability to fly directly to your destination at high speed just can't be underestimated.
For those considering a day trip to Newport, I highly recommend it. We had no problem getting into the airport, there was plenty of space on the flightline and minimal charges. I do believe things get a bit pricer when you stay overnight but am not sure. While bikes are available for rent at the airport, if staying for just a few hours shell out the bucks ($10 each way) and take a cab. It's a 10 minute cab ride but saves you a lot of time as the roads do wind around a lot and it would be easy to make a wrong turn if unfamiliar with the island. Our cabbie gave us his number and we just called him when ready to go back to the airport and told him where we were. He was there in about 15 minutes and 10 minutes later I was pre-flighting the aircraft. One other neat thing about flying into or around Nantucket is that their radar picture is available online! You can actually go back and replay the radar track for when you flew in/out of Nantucket and see your plane...if on an IFR flightplan you can see your tailnumber, squawk and FP details! Pretty neat. Link to the airport monitor page is here.
Back to: N99376 homepage N99376 trips