Jacksonville, FL - Newport, RI
(5-19 Jun 2005)

Map generated by the Great Circle Mapper - copyright © Karl L. Swartz.
In June I went to Newport, RI for two weeks' TDY. Another great chance to use this plane since the nearest airport to fly into commercially is Providence, RI -- 45 minutes away by car with no traffic and that doesn't happen all that often around Newport in the summertime! Instead I flew into Newport State Airport (KUUU), on the island itself and literally a 15 minute drive from the Naval Base where I would be working.
Flight planning was quite routine. I'd heard horror stories about massive re-routes around New York City. While I had the fuel to fly non-stop (and arrive in Newport with about a 45 minute reserve), I elected to make a fuel stop in Suffolk, Virginia (KSFQ). This is a field I got to know quite well when I did my initial fligh training, it has self-service fuel and was conveniently about half-way to Newport.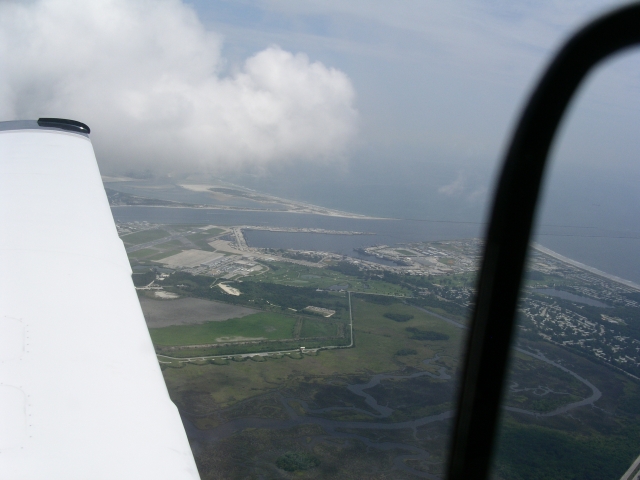 As is my want, I filed IFR and starteg out from Craig Field mid-morning on the 5th. Initial vectors from Jacksonville Center sent me due East past Mayport (got a great shot of the Naval station..picture at right!) and over the water and then turned me North following the coast towards Charleston. Once I was talking to center I was cleared direct Suffolk and we were moving!
Remainder of flight up to Suffolk was uneventful. Got there, landed and was able to get my fuel, make a quick pitstop and get ready for departure. Had the pleasure of seeing an F-4U Corsair fly in, land, and taxi over to the hangars while I was refueld. Unfortunately I didn't have my camera handy and missed the opportunity to get a picture of that gorgeous plane. Sure loved the sound of that big radial engine though...
Departing Suffolk, Norfolk Approach had me fly right over Norfolk towards the entrance to the Chesapeake Bay and then flew me up the Eastern Shore. Was a great route to sightsee, unfortunately there was a solid cloud layer around 2 to 3 thousand feet so all I saw was milky white below me. As I flew farther North the clouds began to clear and I was able to do some good sightseeing as I approached the Delaware River and New Jersey. Took Atlantic City down the right side and got these neat shots: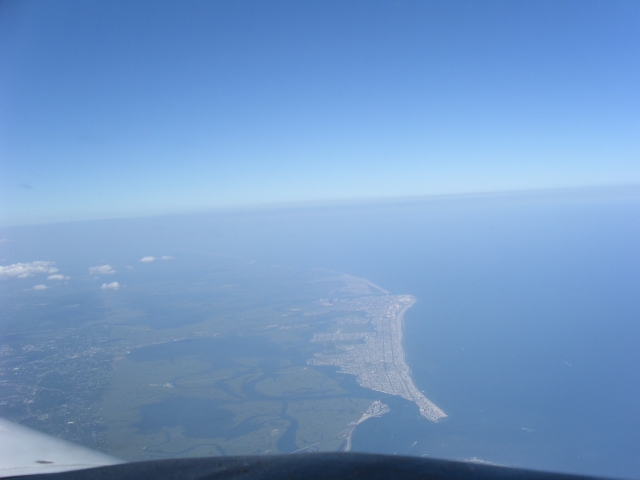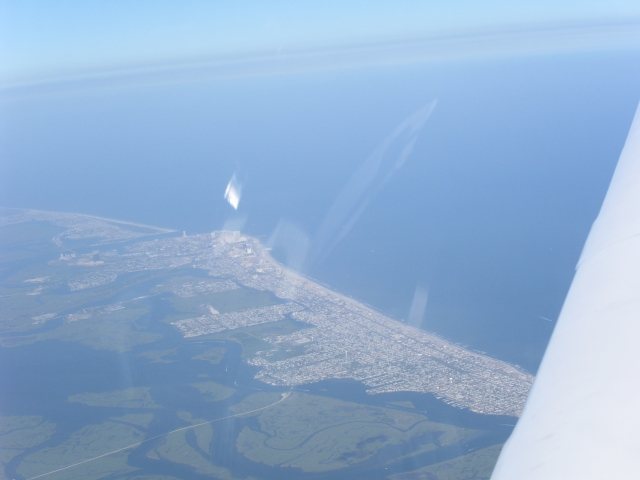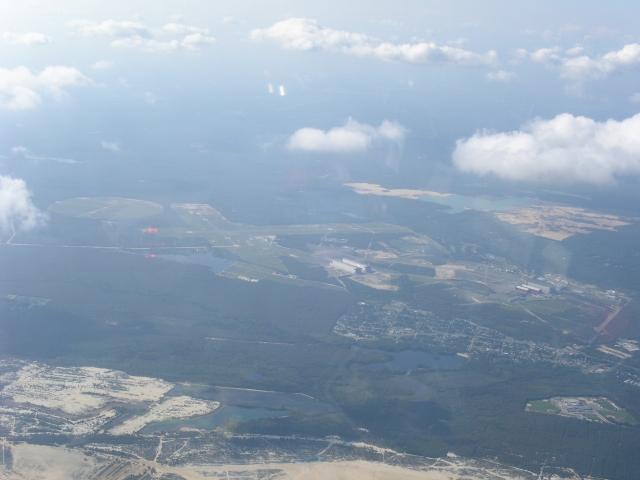 Around this time, New York Center gave me had me descend down to 6,000 feet (I offered to go higher -- up to 18,000 feet -- but was told no, I had to go down to 6,000 to fit through New York's Airspace. Good news was they were going to run me right over JFK International, so I hoped to get some good shots of Manhattan and the airport as I went by. About this time I noticed Lakhurst Naval Airstation (famous as the home of the Navy's blimp fleet before WWII and the site of the Hindenburgh disaster). Got this neat shot of the field -- you can clearly see some of the old blimp hangars in the center of the picture.
A little while later I approached Sandy Hook and got these neat pictures of Sandy Hook and two cruse ships leaving the harbor: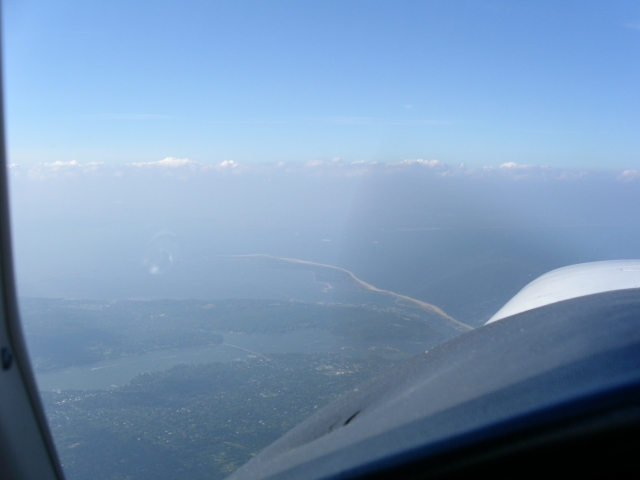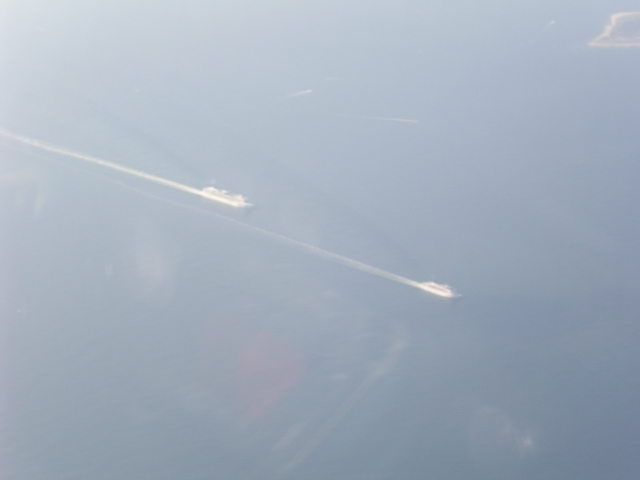 Unfortunately it was quite hazy. I was able to just make out the Manhatten skyline in the haze, but none of the pictures came out. While that hurt from a sightseeing point of view, it was more than made up for by the spectacular view I got of JFK International as I flew over it at just 4,000 feet (yes, NYC Approach had dropped me down to 4,000 at this point).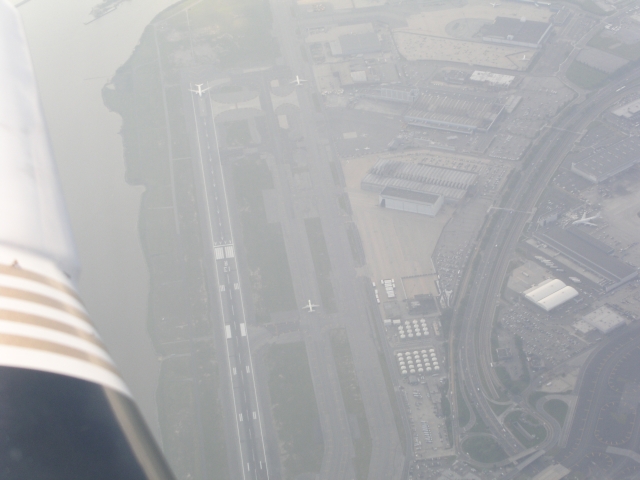 Was pretty neat to watch the line of airplanes taxing and departing from the runway as I flew right over them! From there I was hoping for direct Newport but was instead routed up Long Island, over Long Island Sound to Connecticut and then of the shore to the bay and over to Newport. Was able to get these neat shots of a horse racing track (I believe this is Belmont Park) and the Naval Submarine Base at Groton.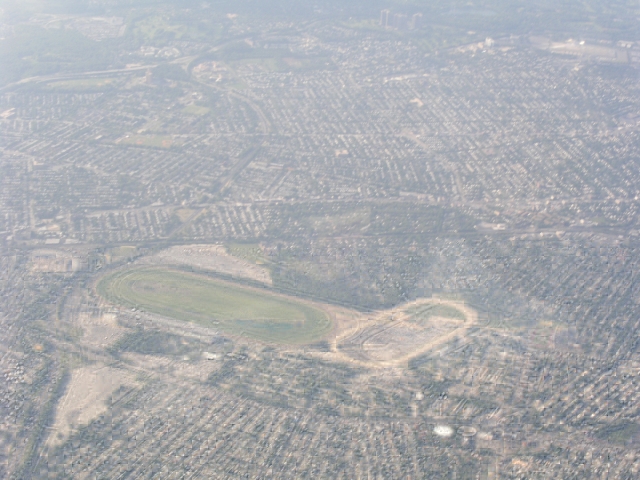 At that point I got quite busy flying into Newport and while I was able to see a lot, it wasn't the time to be snapping photos. While up there I did get some neat shots of Newport when my wife and I flew out to Nantucket for the day...I'll post those on another page. Total flight time (both legs) was 5.8 hours.
By this time I was becoming quite comfortable with N99376. I had taken it on a number of long trips and had a pretty good feel for fuel burn and the accuracy of my fuel flow instruments. As a result, when I flew home on June 19th I planned for a fuel stop in South Carolina. While over Virginia I realized that I was in great shape fuel-wise and could make it all the way to Jacksonville and still have over 2 hours of fuel in the tanks. As a result, I changed my destination to Jacksonville, was cleared direct and made it from Newport to Jacksonville, non-stop in just 5.7 hours! My wife took off 2 1/2 hours after I did (flying US Airways) and didn't get into Jacksonville until near midnight...I was home before 6 pm! Mooney Air rules!!
Back to: N99376 homepage N99376 trips