Chicago, IL - Fort Worth, TX
(8 Jan 2007)

Map generated by the Great Circle Mapper - copyright © Karl L. Swartz.
Had a conference in Fort Worth at the Joint Reserve Base (the old Air Force Base). Options were to fly into DFW and then fight traffic to get to there and then (once the conference was over) rush through the traffic on a Thursday afternoon hoping to make a flight out of DFW or fly "Air Klain" -- it was a no-brainer! Had asked some questions on the Mooney Mail list about airport recommendations (no rental cars at JRB Fort Worth) and Dave Morris recommended Fort Worth Meacham (KFTW). Dave has a great mooney based near there and even offered to meet me upon arrival so we could have dinner together.
Weather was hazy with a broken cloud layer around Chicago, but things would be solid VFR by the time I got near Missouri and good weather set for the rest of the trip. This would also be my first long cross-country using the Controlvision Anywhere WX system on my IPAQ and I was lookign forward to seeing how it worked...albeit with this weather the benefit would really be just to keep up with the TAFs and METARS in the Dallas area...
Climbed out of Waukegan and was again given the vector runaround at 6,000'...but at least they gave me a southwesterly heading. The route took me just West of O'Hare and I got some great shots going by as well as a picture of the Chicago skyline, but the haze made it difficult to see...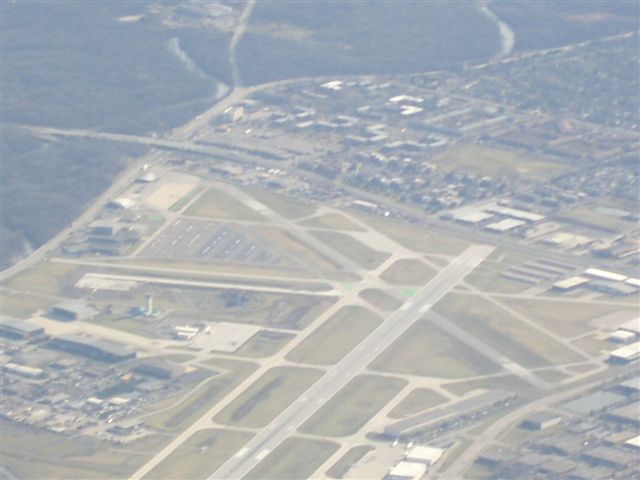 Chicago Skyline (showing the haze) Palawaukee (Chicago Executive Aiport) as I blew by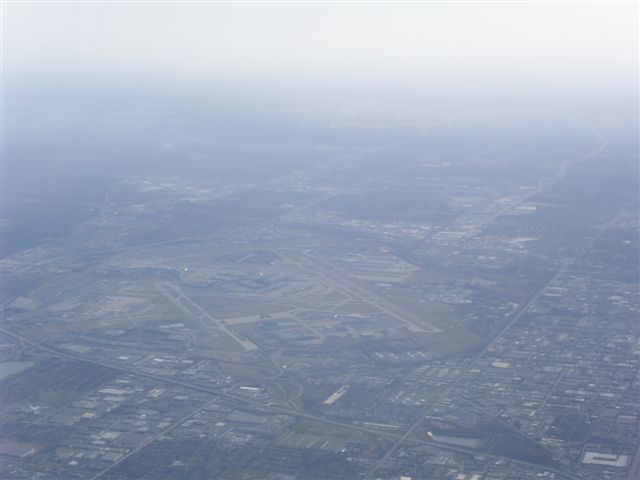 Chicago-O'Hare International Airport

Once South of O'Hare, I was cleared to continue climbing up to 10,000 feet but held there as the departures out of Midway were passing right above and below me. Grabbed this shot of a Southwest Airlines 737 passing 1,000 feet below me...camera doesn't do it justice as it looked much larger in real life!
Rest of the trip was quite uneventful. Passed just North of St. Louis and tried to make out any of the landmarks including the arch, but was too far away...most visible thing was the Mississippi river...but I've seen plenty of that on my trips to and from Millington over the last 18 months.
Instead of flying direct FTW, I made the decision to stop for fuel at KLUD, a small field just Northwest of Dallas. They were very friendly on the phone and the fuel was over $1.20 cheaper per gallon compared to the rates at Fort Worth Meacham. Again, it was a no-brainer for me. Dallas Regional Approach brought me in through the Northeast Gate and then ran me due West about 20 miles North of DFW on a beeline towards KLUD. Landed and could not have been more impressed with the airport. They have a great "taxi'in, taxi out" set-up for their fuel pumps with access on both sides of the pumps so two planes can refuel at once, and the FBO manager came out and personally fueled the plane despite the fact this is a self-serve setup. I will definitely come back here to get gas when inthe Dallas area.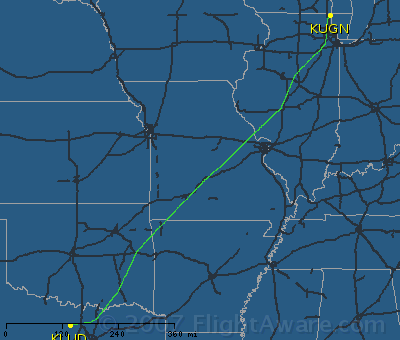 After this it was just a quick 15 minute flight to FTW...I flew it VFR ducking under the Class B to avoid getting a lot of vectors and had no trouble picking up the field as the sun was setting...taxied up to the FBO and saw the line guy and a person I assumed was Dave Morris pointing at my left wing...couldn't imagine what the issue was. Shut down the engine, got out of the plane and learned what it was...the left main gear inner gear door bracket had sheared and it washanging by one bolt...and had dragged as I taxied up. Fortunately the door is made of fiberglass so the damage was limited to one corner being slightly worn away and replacing the bracket looked easy...but it was disappointing to say the least. Unbolted the door and, while under the wing had bad news number two. The fuel tank was weeping slightly...not a lot, but enough to raise concern. It had previously done this for a few weeks the previous winter and we had attributed it to the cold Chicago winter hardening up the sealant. Back then I had researched options and there weren't many -- a full strip and reseal for around $4,000 per tank by Willmar or a patch job by Don Maxwell for $500 per tank. Decided to call Don the next day and discuss options.
Grabbed the rental car and had a great BBQ dinner with Dave who simply could not have been nicer. He was incredibly helpful including offers of car rides and even a plane ride back to Dallas if I needed to run the plane over to Don Maxwell's (located at KGGG -- East Texas Regional Airport about 45 "mooney minutes" East of Dallas). Finally made it to the BOQ at Joint Reserve Base FTW around 2030 after a long day and didn't sleep well with concerns about the fuel tanks running around my head.
The next day I called Don and discussed options. As argueably the best Mooney repair guy in the business, neither the gear door nor the tanks raised any concerns for him, but it would take at least 7 days to do the work. At this point, with the annual coming due in March, I made the decision to bite the bullet and have Don do the annual inspection as well. Plan was to fly the plane over when my conference was done and one of his folks would fly me back to Dallas so I could make a commercial flight back to Chicago. In early February I'd fly back down, get picked up and then fly the Mooney back home. The trip home was further proof of why a GA aircraft like the Mooney is such a great cross country machine...
I was dropped off at DFW at 1640 and was rushing to make an 1810 flight. While checking in, the United rep told me I could go for the 1700 flight. I asked if that was realistic given I still needed to get through security...she said it would be no problem at all. Trusting her, I got a seat on the earlier flight (good news) and made my way through security. I was in uniform since I had literally run from teh conference end to fly the plane out to Maxwell's and get back to Dallas for that 1810 flight, so of course I set off the metal detector and needed the full "want and frisk." While that was going on, other TSA folks were pointng and looking at the x-ray machine. An agent pulled my flight bag and asked it it was mine. I responded in the affirmative (they were done searching me and I was just putting on my shoes) as they began to search the bag. I walked over an the screener said the X-ray machine saw a weapon of some kind...possibly a folding knife. I had no idea what he was talking about and then it dawned on me...I keep a "leatherman" folding pliers in the bag..and it has folding screwdrivers and a knife plade. I fessed up and pointed it to the screener who said I could not take it aboard. With no options (and now worried about that flight leaving in 10 minutes) I said he could just throw it away...he walked off wtih it and my ticket and spent around 5 minutes writing things down while I watched the clock tick. I'm sure there is now a record at TSA and homeland security that indicates I once tried to smuggle a leatherman with folding knife onto a plane...lovely.
Finally made it through security, ran to the gate to see no one boarding and the status board indicated plane would now depart at 1800 -- delayed. As I walked up, the gate agent announced that there was a ground hold in effect for all flights going into O'Hare and we were now planning on boarding at 1840 for a 1900 departure... At least I now had time get some dinner... After an overpriced restaurant burger, I made it back to the gate to see the status was now a 1940 boarding for 2000 departure...but soon that changed to a 2040 boarding for 2100 departure. At 1945 the pilot got on and announced he was seeing indications the hold might soon be lifted and wanted to be in a position to go as soon as possible, so we boarded and pushed back from the gate...and sat awaiting a release. 30 minutes after pushback we were released and on our way to O'Hare. That 1700 flight arrived at O'Hare near 2300...Had I left Dallas in the Mooney at 1700 I would have been on the ground in Waukegan by 2200. The wonders of modern airline travel...especially into O'Hare late in the day...
All told the trip down took me 5.8 hours (UGN-LUD-FTW) on 60 gallons of gas with an average speed of 140 knots against a tough 25-35 kt headwind the whole way... You just gotta love flying these wonderful machines!
Back to: N99376 homepage N99376 trips