2007 Mooney Caravan to Oshkosh

(21 July 2007)

Map generated by the Great Circle Mapper - copyright © Karl L. Swartz.
In July 2007 I accomplished another couple of lifelong dreams. The first was to attend EAA's annual convention/airshow at Oshkosh (EAA Airventure). It is literally the world's biggest airshow and the place where aviation companies roll out and display the latest models alongside a huge collection of experimental aircraft and legacy warbirds and antique aircraft.
There are two ways to go to Oshkosh -- fly or drive. While the easy answer is to say "fly in" a look at what goes on during the week of Oshkosh complicates that decision a bit. During Airventure, Oshkosh (KOSH) becomes the busiest airport in the world...no other field even comes close. The FAA's best air traffic controllers bid on the opportunity to work Oshkosh because of the challenge it brings. Picture an airport handling literally everything from high performance fighter planes to commercial airliners to business jets to the full range of general aviation planes to warbirds to ultralights and pre-WWII designs and you start to understand what happens. Literally thousands of airplanes arriving with wildly differing performance characteristics and speeds all trying to get into one airport in the few hours it is open before and after the daily air show. To accomodate this traffic, the FAA modifies its normal operating procedures in several ways. First, any week but Airventure, KOSH has two runways 18/36 and 9/27. For this week, the parallell taxiway becomes a runway as well giving us 18L/36R, 18R/36L and 9/27...and all three runways are used simultaneously. Even that doesn't get it done so the runways are cut in half with big colored dots on them and planes are cleared to land on either the first or second half of the runway (meaning more than one plane is landing on the runway at the same time). Lastly, for departures, planes line up on the left or right side of the runways and take off nearly simultaneously, effectively doubling the number of departure runways available.
Further adding to the confusion is the fact the preferred arrival method is VFR (IFR separation standards and procedures would bring things to a halt). There is a complicated NOTAM which has planes arriving over designated visual checkpoints. FAA controllers are located at these places (as much as 20 miles away from the field) and then clear the aircraft in with calls like "Green high wing Cessna, cleared to proceed inbound, make right traffic for 27). At no point do the pilots talk on the frequency...it's simply listen for your aircraft to be called, do what you're told to do and keep your head on a swivel to avoid all the traffic. The amazing thing is the FAA manages things so well that the evolution is conducted safely year after year after year --- it's a testament to the professionalism of the FAA controllers and pilots at Oshkosh.
Given the furball that is flying into Oshkosh, I faced it with some trepidation before discovering a third option last year -- the Mooney Caravan! Most people flying into Oshkosh camp by their planes...but planes are parked on a "first come/first served basis" making it difficult for buddies to camp near each other unless they get lucky enough to arrive at the same time and end up taxiing near each other. Ten years ago a group of Mooney owners approached the FAA and Airventure's organizers and obtained permission for a flight of Mooneys to arrive as one formation...the result being the planes end up being parked near each other for socializing and fun. Unlike the normal Oshkosh arrival, the caravan arrives as a single flight and are cleared directly into Oshkosh from their departure point of Madison, WI (KMSN). Arriving with that group seemed like a much better and safer idea, so I signed up last Spring.
As Oshkosh got closer, Tony Rees (a Mooney Pilot from Australia) emailed the group and asked if there was an open seat he could take in the Caravan to arrive with his fellow Mooney owners. Being based in Chicago it would be easy for Tony to fly here and join me so I immediately offered and he took me up on the invitation. His journey to Chicago from down under was a saga in and of itself (almost entirely due to Delta airlines) but I'll leave that story for Tony and instead get on with the Caravan. Tony took the pictures you'll see below while I was busy in the formation...without his presence I would have had no inflight photos of the Caravan...so thank you Tony!
On Saturday, July 21st, Tony and I flew from Waukegan to Madison and taxiied up to ramp containing over 40 Mooneys -- it was the largest collection of Mooneys I'd ever seen in my life...and it felt like coming home to long-lost friends and relatives! After detailed safety briefings it was time to head out. The formation is broken up into groups of 6 airplanes. Each group has a letter (Alfa, Bravo, Charlie, etc.) and each plane has a number. I was "Foxtrot Four" meaning I was pretty far back in the formation and any accordioning of the formation would be truly magnified by the time it got back to us...
(Note that you can click on any picture to get the full-size, high resolution image.)
Below you can the ramp as we started engines. On the left side you can see the leaders taxing out past us...
We're finally in the line and taxiing out to the runway!
Once Mooney Lead got to the edge of the runway, all planes offset from the taxiway axis to conduct engine runups and final checks before takign the active. Note I was so far back that we weren't even on the taxiway parallel to the runway yet (remember, there were 33 planes ahead of me...)!
The next sequence shows us taxiing onto the runway and forming two lines (we each get half of the runway width to use during the takeoff. Takeoff doesn't begin until everyone is on the runway and ready to go.
While we were waiting for those behind us to get on the runway and in position to go, the plane next to us (N6355Q owned by John Einck of East Dubuque,IL) and I took pictures of each other! John -- if you have any pictures of N99376, I'd appreciate them!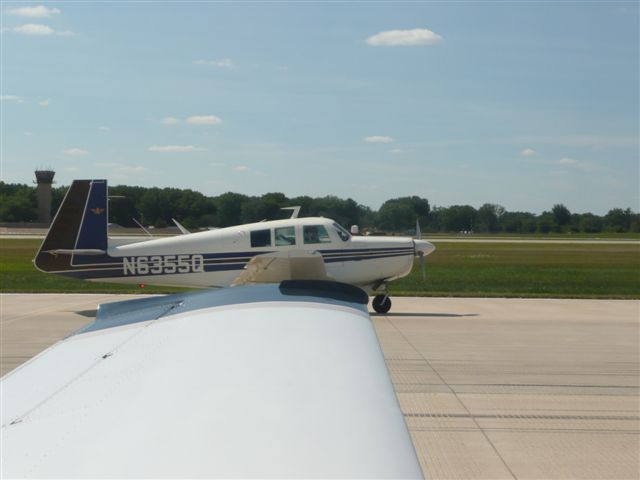 The next sequence shows the formation takeoff. Each plane releases brakes 4 seconds after the plane ahead of it with a delay of 15 seconds between the last plane in one group and the next group leader. The net result? Over 40 planes take off in around four minutes. The pictures just don't do it justice.
The enroute portion was pretty tough. While we were all flying Mooneys, there were everything from the older, slower models up the an Acclaim (Mooney's newest model and the fastest piston single in the world). These next two pictures show the formation ahead with Lake Winnebago in the distance. At this point Mooney Lead is preparing to land and we are almost 8 miles behind him...
Oshkosh finally came into view (you can just make it out on the left edge of the first picture...the plane ahead of us has already turned for the runway) and we made our turn to line up for runway 36R (the parallel taxiway under normal conditions). The landing went like clockwork, but it is a bit disconcerting to see planes landing ahead of you and still rolling out as you touch down...
One word descibed Oshkosh -- Organized! Once on the ground, we followed the taxi instructions of the wonderful EAA volunteer ground guides who got us from the runway and taxiway back into one line of Mooneys and then onto the grass and headed for our assigned parking/camping area in the "North Forty."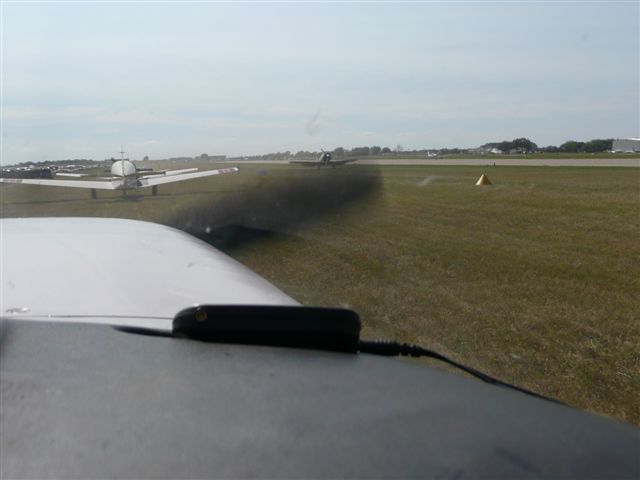 Once at the appointed place the rules were simple....shut down, get pushed into place, jump out and help push the next guy into place! Once everyone was parked, it was time to set up tents and enjoy more fellowship and good cheer. The Caravan's organizers are so good, they even had this banner to ensure passers-by knew they were in Mooney territory! The last two pictures show 99376 and our campsite.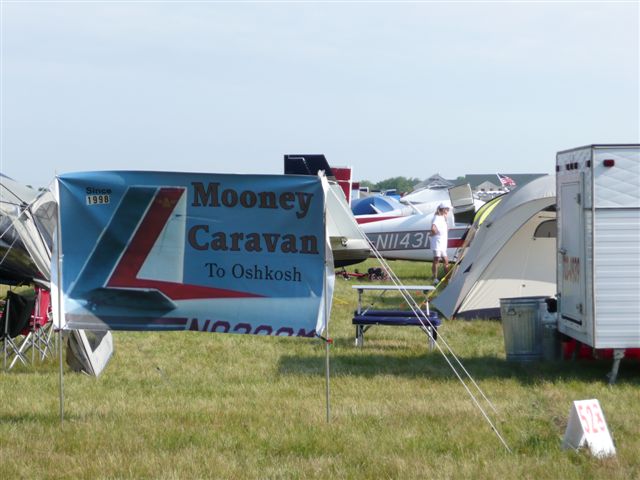 While the Caravan itself was over, the time for fellowship was just beginning. Every year the Caravan also has a catered BBQ where people can exchange stories and catch up with old friends. While I had never met any of these people in person before, I knew most of them from the Mooney email list and it was like meeting a pen pal after years of exchanging letters. Didn't get pictures of everyone, but did get a few (was too busy talking and meeting people to take pictures!)
Chris Strube (BC, Canada)

Bill Rabek ("Mooney Lead")

Can't remember his name, but flew to Oshkosh from Germany with his wife in a Mooney!!

Tony Rees and I standing in front of N99376 having had a marverlous first Mooney Caravan and Oshkosh experience!
It truly was the experience of a lifetime. Unfortunately, I had to leave after only two nights because I had to be back at work, but I look forward to future Mooney Caravans and visits to Oshkosh!
Back to: N99376 homepage N99376 trips